Leading edge, a flair for engineering 
As the first and only provider, Geolam offered its Wood Hybrid Systems (WHS) for façades, decks and roofs to the global marketplace in 2012. These WHS profiles are the result of an innovative hybrid technology, which enables heterogeneous materials to be successfully extruded together under heat.
Three layers of different materials undergo our patented triple extrusion process. Light, stable aluminum makes up the core. The connecting intermediate layer is made of a copolymer resin. The protective layer, lends the profiles the characteristics of tropical wood. This innovative combination of materials gives our profiles exceptionally superior features. They are three times lighter, four times more stable and eight times more rigid than WPC profiles. In addition, one single Geolam WHS profile can be bent to different radii and in different directions. Wood, on the other hand, has to be bent in the direction of the fibre only.
1. Recycled Aluminum (6063T5)
As the core of the material, aluminum gives lightness and stability. The light metal allows safe and grid-free mounting options, which significantly expands the span between 2 points of attachment.
2. Copolymer Resin
In the triple extrusion process, the intermediate layer of copolymer resin inseparably merges the aluminum core with the outer layer. This resin is very strong and so firmly connected to the two materials that the hybrid profiles can be bent into different radii (smallest radius: 400 mm or 16 in).
3. Outer Skin
The outer layer in WPC is available in many colours, but especially in different finishes, too. The base colour does not change over time, even without maintenance. The dimensional stability of this hybrid material is remarkable, even when exposed to extreme temperatures and weather conditions. Even when exposed to humidity, its dimensional stability outclasses all types of composite wood.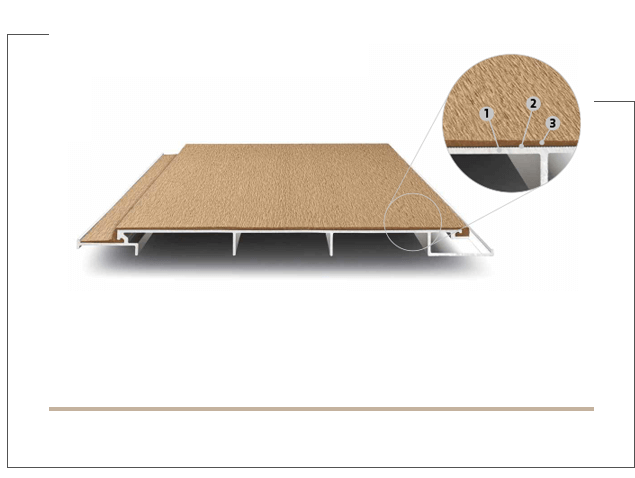 Co-extruded

double layer technology
A pioneering spirit, and over 50 years of experience
First generation products were heavy, but in 1992 a revolutionary production method developed by Japanese engineers, led to the manufacture of the world 's first hollow cell profiles and their typical honeycomb structure. Hollow cell boards are lighter, more efficient and absorb much less humidity than solid decking products. Their cross sections can be adjusted to permit substantially larger spacing between joists in the substructure, enabling fast installation in all type of construction projects. With a reinforced blade stability, an in between supports axis of 60cm for the structure and the low core humidity absorption, this profile represents the pinacle of technology in its domain while keeping an economic, fast but high quality installation, compared to first generation co-extruded profiles.
1. Hollow Cell Technology
Hollow cell profiles allow implementation at reduced costs due to increase of profiles stability and strength.
2. High-quality Extrusion
Polished surfaces are synonymous with high extrusion quality.
3. Co-extrusion
Combining the core and the external layer: the material is homogeneous, which makes it more resistant and more stable.
4. Multiple Purpose Exterior Layer
This WPC layer guarantees an antistatic surface. A thermal shield can be added on demand to lower the surface's temperature when exposed to the sun.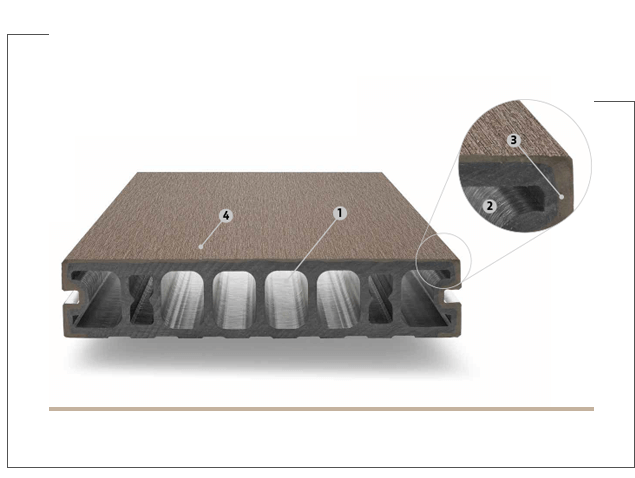 ISO is an independent, non-governmental, international organization that develops standards to ensure the quality, safety, and efficiency of products