Responding to fire resistance to the highest international standards
The fire behaviour of construction materials is tested in different ways already during product development. In Europe, the regulatory fire classification is carried out on all construction products, including wood products. Testing is carried out by an accredited commercial testing laboratory.
Classification
Europe
Euroclasses (EN 13823+A1)
B-s3, C-s3, d0 ou D-s2
USA &
Middle East
Surface burning characteristics
(ASTM E84) Class A / Class 1
France
(NF P92-507) M1 to M2
Germany
(DIN 4102-1) B2 classification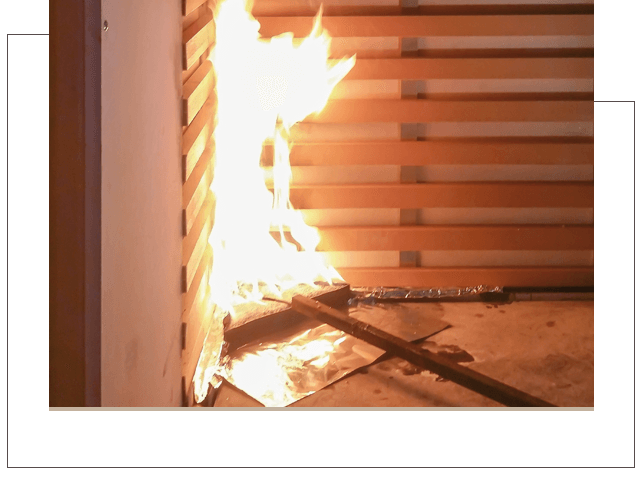 Exceptional features set the benchmark for wood façades and the creation of indoor and outdoor spaces
A façade built with Geolam Premium hybrid profiles exhibits the exceptional aesthetic qualities of natural wood, but it does not have its fragility. Unlike the hardwood that bleeds tannin, changes colour, warps and generates splinters, the WHS Geolam profiles are durable, dimensionally stable, remain perfectly straight and can be installed even under the most extreme climatic  conditions. 
Geolam boards do not bleed tannins nor splinter. They are well adapted for indoor applications as well due to their fire resistance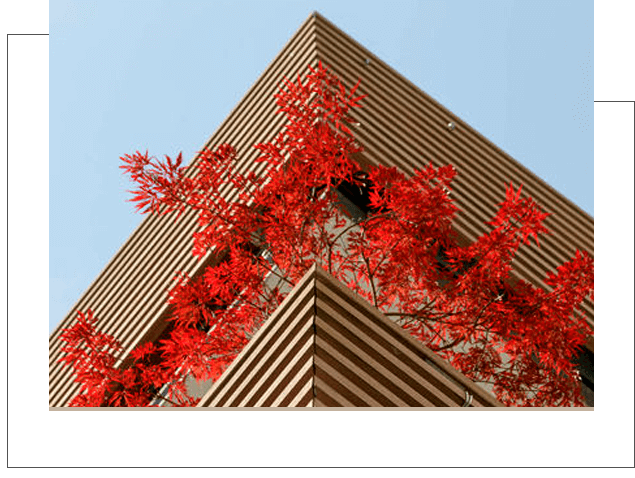 Geolam compared to natural wood

Sustainable and durable
No cracking
No splintering
No warping
Maintenance free
Can be cleaned with water
No greying
No fading

No finishing required
Endures extreme climates
No rotting
No mould  or insect-damage
Geolam compared to other WPC
Aesthetic, natural texture
Lightweight
No PVC
No formaldehyde
Versatility of uses
Bendable
Customized lengths 
Customized radius

Dimensional stability
High mechanical strength
Easily installed
Reduced costs
Geolam compared to lacquered aluminium

Natural look and feel
No additional treatment required
No additional stain or painting required
Lightweight

Repairs of dents is possible 
Can be ripped, sanded or corrected on site, if necessary without dismantling the profile from façade.

Best insulation
Best phonic insulation
Best thermal insulation
Best wind and vibration resistance